C osmetic Chemicals
B&B Co.,LTD in Korea is now one of the leading Specialty Chemical Group who has developed Highly Purity, Odorless and Colorless cosmetic ingredients such as 1,2-Pentanediol, 1,2-Hexanediol, 1,2-Octanediol, EHG and MPO
Functions and use in cosmetics
1,2-Alkanediols, EHG and MPO can be used as Multifunctional ingredients in Skin care, Hair care, Toiletries and color Cosmetics.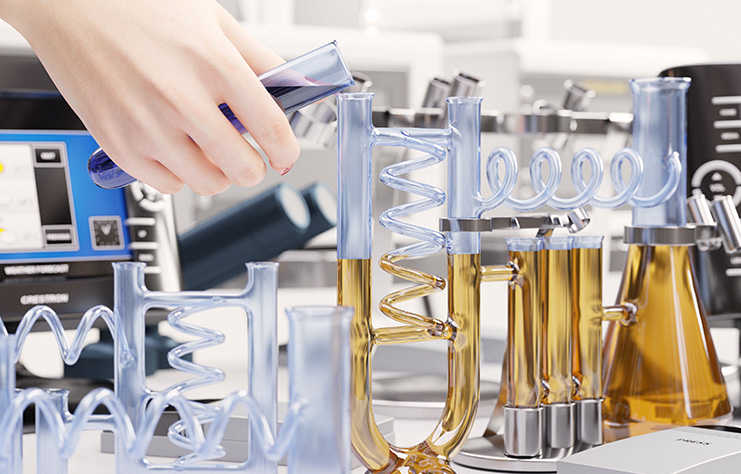 - High Purity and Odorless
- Antimicrobial Ingredients
- Safe and No Skin Irritation
- Moisturizing Agents
- Good Emollient and Humectants
- Solvents for active Ingredients
- Skin penetration enhancers
- Preservative boosters
- Highly Soluble

Introduction 1,2-Alkanediols, EHG and MPO
B&B Co.,LTD is now one of the leading Specialty chemical Group who has developed highly advanced cosmetic ingredient such as 1,2-Hexanediol, 1,2-Octanediol, 1,2-Petanediol, EHG and MPO etc. in Korea

Of special note, B&B  has successfully developed High quality 1,2-Alkanediols, EHG and MPO is processed, refined And purified with raw materials, with Odorless, Colorless but High Purity of 99.8%(BH-800)  After three years of R&D hard work

Widely used cosmetic raw material with multifunctional properties. It is an excellent moisturizing ingredient for topical preparations. Besides it has very good antimicrobial and solubilizing properties

As a mandatory ingredient with no harm to the human body, 1,2-Alkanediols, EHG and MPO acts as an antiseptic, a sterilizer and a moisture material for cosmetics, living products and other products that make contacts with human bodies.

Functions and use in Cosmetic
BP-800 (1,2-Pentanediol, Pentylene glycol)is water soluble and is preferably used in concentration of 0.1 ~ 5% (Max. 4.5% in China). BP-800 is well suitable to dissolve and stabilize in solutions many lipophilic active ingredients, which are otherwise hard to incorporate into cosmetic formulations. 
BH-800 (1,2-Hexanediol) is used in concentration of 0.1 ~ 3% (Max. 0.5% in China). BH-800 provides a very soft skin sensation and shows an exceptionally low irritation potential. 
BO-800 (1,2-Octandiol, Caprylyl glycol) shows broad antimicrobial properties. It cause a very smooth skin feeling and is used in concentration of 0.1 ~ 3% (Max.0.7% in China)
BEG-800 (Ethylhexylglycerin) can be used as skin care additive and deodorant active in concentration of 0.3 ~ 1.0% ( Max. 0.5% in China)
BMP-800 (Methyl Propanediol)  is perfect replacement to 1,3-BG(Isomer of 1,3-BG) .It is mixed with the aqueous hase before the emulsification. It can be used in cold process as well as at higher Temperature(80℃). With a recommended use concentration of 2.5 ~ 4.0% 
Advantages
- Colorless & Odorless & Control of the irritant inducing factor
- Non-irritant and excellent anti-microbial effect. 
- Good compatibility and low MIC can easy to use In every Formulation without other preservatives
- Anti-Oxidants & Chlorination through our specialized process Of Manufacturing
- Control of the odor inducing factor at Mix with water Contained Materials
- Outstanding hard Water-resistance through accelerating Test
- Filtering System for high purity.
- Regularly Product test through the international Certification   Authorities
Antimicrobial effect (MIC Value %)
Please scroll to the right to see the table.
Item
Bacteria
Eumycetes
E.coli
S.aureus
P.aeruginosa
C.albians
A.niger
BP-800(Pentylene Glycol)
6
4
8
8
>20
BH-800(1,2-Hexanediol)
1.9
2.4
1.5
0.1
0.3
BO-800(Caprylyl Glycol)
0.2
0.3
0.2
0.2
0.01
BEG-800 (EHG)
0.2
0.4
0.25
0.3
0.06
BMP-800 (MPO)
8
5
8
8
>20
Phenoxyethanol
3.8
5
1.6
0.1
0.1
Paraben
0.1
1.6
0.1
0.02
0.02
Comparison of BNB® Series